Continuation of Operations Policy
LIBRARY POLICIES
Here are some useful forms and information pages in .pdf format (you'll need a PDF Reader).
Paper copies are available at the library.
Bylaws
Policy & Procedure Manual Updated 11/29/23
Policy & Procedure Manual
Room Use
If your community group wishes to use a Library space, please read the Meeting Space https://bcpl.sals.edu/wp-content/uploads/2023/10/Room-Use-updated-9-2023.pdf policy, fill out the Meeting Room Form, and bring it in, or scan and email to jrichard@sals.edu.  An insurance rider from the group seeking to use the group is also required.
Library Cards
Please print, fill out, and bring it into the library with proof of address. Youth card (Kindergarten through sixth grade) requires parent/guardian signature.   If you already have a card from the MVLS or another SALS library, you do not need another card. If you have lost your card, we will replace it for $2.00. You will need proof of identity if you do not have your library card.
Adult Card Application (Grade 6 or Age 13 and up)
Child Card Application (Age 5 or in Kindergarten through Grade 5 or age 13) 
Request for Reconsideration Form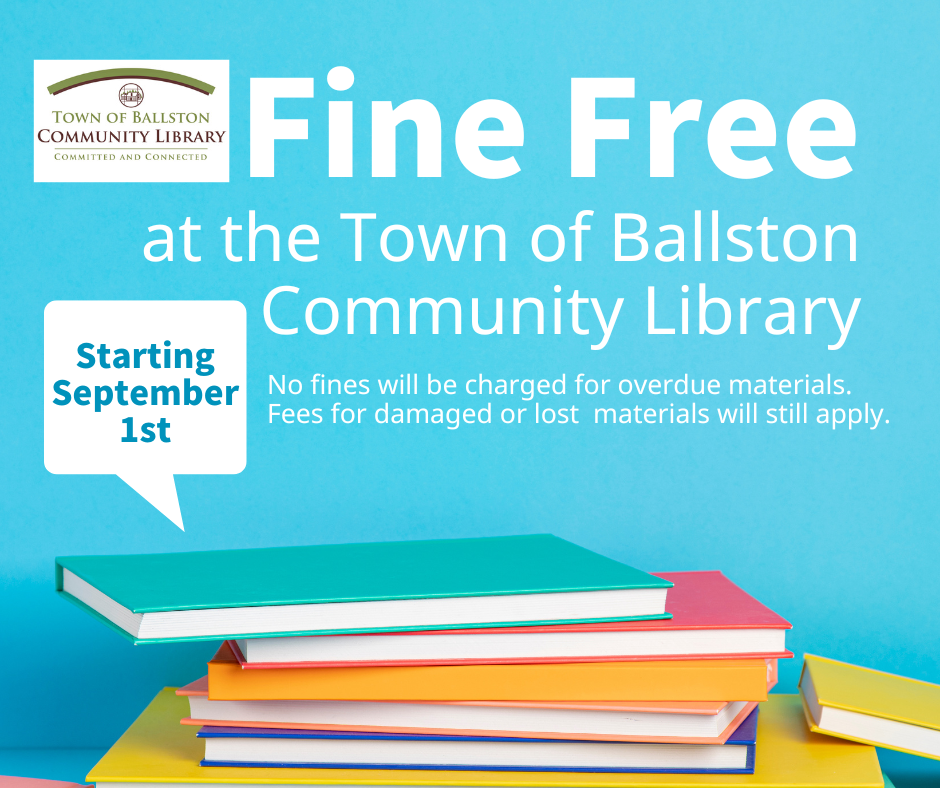 Fine Free
The Town of Ballston Community Library is going fine free as of September 1, 2022.
What does this mean for you?
No fines will be charged for overdue materials.
Fees for lost or damaged materials will still apply.
If you owe fines to another library, those will still be on your account.
Why are we making this change?
Libraries are for everyone and we want all members of the community to use the resources we offer. This will clear the slate and hopefully encourage past patrons to return.
Studies show that fines do not incentivize people to return items and people are actually less likely to return items that are way overdue for fear of being charged.
Fines collected make up less than 1% of the Library's overall budget. We are able to make this change without raising taxes.